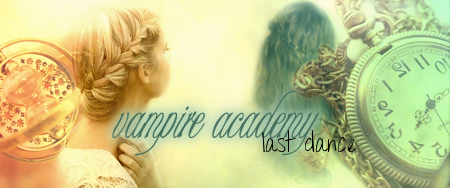 everyone longs to be loved
what can I say to that?
but the door to the heart is open and shut
like the warmth of your breath
everyone longs to be heard
but we tend to get caught in the noise
oh, what I'd give, how far I'd search
just to hear your voice

Lissa Dragomir ist ein sterblicher Vampir, ein Moroi. Sie muss zu jeder Zeit vor den wildesten und gefährlichsten Vampiren von allen - den Strigoi - geschützt werden. Rose Hathaway - ein Dhampir - ist ihre beste Freundin und ihr selbsternannter Leibwächter.
Zusammen waren sie aus der Akademie geflohen um sicher zu sein. Doch jetzt, nach zwei Jahren der illegalen Freiheit die sie sich erkämpft hatten, sind sie zurück hinter den Eisentoren der St. Vladimir Akademie. Doch genau dort wo es sicher für sie scheint, ist es am gefährlichsten. Sie müssen nun eine Welt von verbotenen Romanzen, Tod, Kampf um das Leben und anderen furchterregenden Dingen überleben.
Aber vor allem muss Rose auf Lissa aufpassen, denn sie ist die letzte Dragomir und anscheinend wollen die Strigoi alle Königsfamilien auslöschen. Bis auf den Letzten. Hilf den beiden Freundinnen die Angst loszuwerden, dass jeder Tag zusammen auch der letzte sein könnte und werde ein Teil der Geschichte.
- alles dreht sich um die Buchreihe "Vampire Academy"
- Buchkenntnisse sind also erforderlich
- wir spielen ab dem zweiten Buch wenn Mason stirbt
- wir nehmen die Bücher nur als Stütze und Leitfaden
- ausgedachte Rollen sind vorerst gesperrt
- es dürfen sich nur User ab 13 Jahren anmelden
Vasilisa Dragomir:
vasilisadragomir@web.de
I'm not afraid of dying
there's too much to miss in life
but I can't begin to even imagine
you not by my side
I'm not afraid of tomorrow
tomorrow, I'm afraid, won't change
and if we're consumed by counting each hour
what's left of today?

if this was our last dance
I'd wait in the rain
just to see your face
if this was our last chance
I'd ask you to stay
for one last dance
Forum
|
Partnerbereich
|
Besetzte Rollen
|
Avatarliste
|
Wichtiges
songtext: last dance - camera can't lie