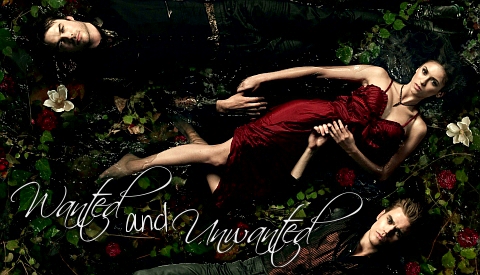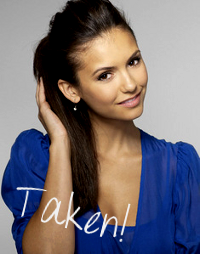 Elena Gilbert - The martyr.
Elena is a popular girl at school, that recently lost her parents.
But she decided to stay strong and move on,
even if she had a hard time to pass.
Catching the eyes of the mysterious new guy in town,
Stefan Salvatore, she brings herself into a new world,
she never thought, it might excist.
From now on, Elena's part in the supernatural world
seems to get bigger and bigger.
She discloses secrets, which might have been never disclosed,
gets into things, that are way too dangerous for a human.
She knows, that beeing with Stefan is kind of dangerous,
but she takes the risk, just for beeing with the man, she loves.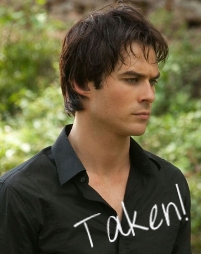 Damon Salvatore - Mister Irresistible.
Damon is the older of the two vampire brothers
and is definitely the darker of the two.
He's spent most of his life trying to resurrect a vampire,
he fell for in 1864, Katherine,
and trying to make Stefan's life feel like hell.
But he has developed feelings for Elena, which made sure,
he had a lot of trouble with Stefan and in the end, also with himself,
because he did not wanted to accept,
he actually changed because of Elena.
He denied it a long time,
but everytime, Elena gets into some trouble,
he's the first one, trying to get her out.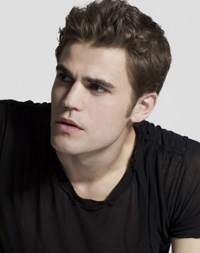 Stefan Salvatore - Still waters run deep.
Stefan is the younger of the two vampire brothers and quickly
falls for Elena, a girl who reminds him
of his previous love, Katherine.
He is the kind of guy, who's calm, but might explode within seconds.
He tries to handle the moster inside of him, but there are
many people, who want to see it breaking free.
His self-abandonment brings him a lot of trouble,
first of all, it brings him to Klaus.
He would sacrifice himself, before he would let someone hurt Elena
or even his brother, which tortured him a long time.
Stefan tries to ignore the feelings, Damon developed for Elena,
but it might get difficult, now that he left Mystic Falls.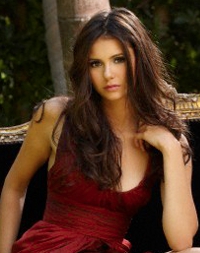 Katerina Petrova 'Katherine Pierce' - The beautiful beast.
Katherine is the vampire, both Slavatore brothers
were in love with, back in 1864, the year, she turned
them and pretended to die, by getting captured.
Damon spend nearly his whole life, trying to get her out
of the tomb, just for realize, she was not in there and was not interested in seeing him the whole time.
She is very smart and cunning, and manipulates those
around her for selfish reasons.
Her story is the reason for all of her behaviour. She got pregnant, while she was very young, her baby was taken away,
and as a Petrova doppelganger she was chased her whole life.
Pretending to die was her only way to hide from Klaus.

Bonnie Bennett - Magical best friend.
Bonnie comes from a long line of witches and is taught how
to use spells by her grandmother, Sheila Bennett.
By doing the Salvatore brothers a favor, Sheila dies.
Bonnie calls them to account, losing 'Grams' was very hard for her,
so that she starts to hate all vampires for what they are.
She wants to keep Elena safe, but accepts the fact,
she's with Stefan, because she wants her to be happy.
Always being around Elena, she starts to realize,
how the younger Gilbert, Jeremy, changes.
They're afraid, of what Elena might think about their relationship,
but hearing, she is happy about this turn, they finally
find their way, which leads them to each other.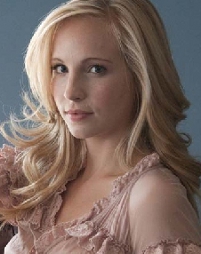 Caroline Forbes - Emotional vampire.
Candice is a bubbly cheerleader that many considered
to be shallow and selfish. She is one of Elena's best friends,
even if they fought a lot in the past.
Caroline had a little affair with Damon, who used her as a toy,
which had to spy along and feed him with blood.
Just, when she thought, her realtionship with Matt was perfect,
Katherine decided, to use Caroline for her plans and turned her.
From now on, she had to lie to Matt while trying, not to kill anyone.
Living with a mother, who's always on a hunt for vampires,
makes it very hard for her, to be herself, even at home.
Breaking up with Matt nearly made her to an emotional wreck,
but her friends catched her at the right time, especially Tyler.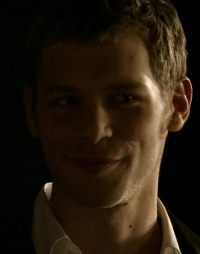 Klaus - Megalomaniac slayer for fun.
Klaus is a werewolf/vampire Hybrid. He is the reason,
vampires and werewolves believe, there is a sun and moon curse.
In actuality, Klaus is the only one, who has been cursed
by an Aztec shaman, because he is both, a vampire and werewolf.
For breaking the curse, he needs to get a moonstone,
kill a werewolf, a vampire and a Petrova doppelganger.
Katherine escaped him by turning, but instead of losing his interest,
he starts a hunt and is after her for over 500 years.
Finding out about Elena's existence, he becomes obsessed with her
and plans on using her for the sacrifice. Elena was willing to sacrifice herself, for saving everybody else.
So, in the end, it was worth waiting and Klaus becomes a full hybrid.

Jeremy Gilbert - The little brother.
Jeremy is the corporal son of Grayson and Miranda Gilbert
and the adoptive brother of Elena.
But since they were living their whole life together,
they decided to move on, just like real siblings.
Jeremy had an emo-phase, a druggy phase, but in the end,
he pulls himself together and becomes the new, grown-up Jeremy.
Life strengthened him. Losing his parents, two of his girlfriends
and his aunt, he had to suffer a lot.
But finding his way to Elena's best friend Bonnie brought back his
courage to face his life.
After being rescued by Bonnie, he returns back home, where he has a
reunion with his former girlfriends, which were actually dead.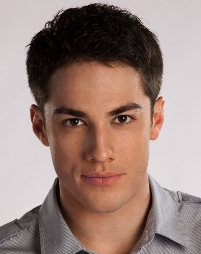 Tyler Lockwood - Impulsive werewolf.
Tyler is pretty much a jerk. He is the basic school bully
and not nearly as tough as he acts.
He doesn't get along with his strict parents, especially
his father, Mayor Lockwood.
Just when the mayor was killed in a fire, which actually
should only kill vampires, Mason Lockwood, Tyler's uncle,
arrives and initiates him into the werewolf secret.
Tyler kills a drunk girl, which got compelled by Katherine,
by accident and as expected, he starts to turn into a werewolf.
Caroline helps him to get through this hard time
and that's why they get pretty close. Caroline stays with him,
even if she could be killed by him with only one bite.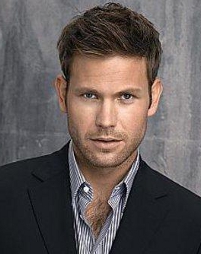 Alaric 'Rick' Saltzman - Easy-going history teacher.
Alaric comes to the Mystic Falls High School as
the new history teacher, after Mr Tanner died.
He was married to Isobel, who is actually Elena's birth mother.
They were living in North Carolina when he came home late
one night and witnessed Damon biting Isobel's neck.
Rick moves on as a widower and meets Jenna Sommers,
the aunt of Elena and Jeremy.
They get into a relationship, but Rick has to lie to her a lot.
He joins Stefan, Damon, and the crew in protecting Elena
and hunting down the bad vampires in Mystic Falls.
After Jenna died, Rick is the only attachment figure
for Jeremy, since his older sister does not live with him anymore.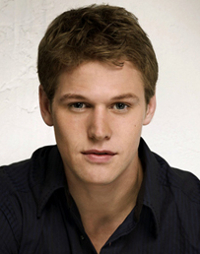 Matthew 'Matt' Donovan - Budding jock.
Matt is Elena's ex-boyfriend and is a typical high school athlete.
He is best friends with Tyler Lockwood and the quarterback of the
Mystic Falls High School football team.
He is also employed at the Mystic Grill as a busboy.
He grew up in hard conditions. His mother left him
and his younger sister Vicki, he had to take care of everything
on his own, because Vicki is addicted to drugs.
At first, he wants to get back together with Elena, who broke up,
after her parents died. However, he falls for Caroline and starts a
relationship with her. Telling him about her secret, they get into
trouble and finally break up, because Matt can't be compelled and
cannot handle the fact, Caroline is a vampire.

Elijah - Mister 'I'll rip your heart out'.
Elijah is an original vampire. He is Klaus' brother
and despises Klaus for killing his family. Being an original,
Elijah has the ability to compel other vampires.
He makes a deal with Elena, and tells her, that as long as
she stays put, he would not harm her friends or family.
Right as Bonnie is about to kill Klaus, he tells Elijah,
that he can reunite him with his family if he saves him.
In an act of desperation, Elijah breaks his word
to Elena by saving Klaus. In the end, Klaus reunites
Elijah with his family, by kidding him with
the white oak ash dagger, Damon earlier got from John Gilbert.
The dagger killed him before, but he was brought back to life then.